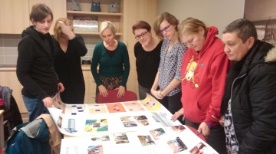 Monthly we have been discussing what the problems are in transition and which actions can be undertaken and how to follow-up and evaluate these actions. Since Belgium is characterized between a historical split between childcare and preschool, the first two meetings were focused in childcare workers and preschool teachers getting to know each other so they could collaborate better in future. Based on this input and the visits to the ECEC centers and primary schools, we developed 9 common principles that our casestudy will be based on:
We respect each child in his/her identity and give them all possible changes in the transition.
We approach children and parents positively and personalized: strengths and forces of children and parents are at the core
We want to ensure a gradual and comfortable transition for children and parents.
By encounter and dialogue we build a trust relationship with parents.
We actively involve parents in the transitional process
By an open and warm reception, children and parents can feel welcome
We support and strengthen each other to take actions in transition
We unite our forces to establish continuity in the upbringing process of children
We fine tune our organizational policies with respect for the singularity of each organisation.