Our mission
VBJK is all about Inovation in the Early Years
Innovation
Innovation for VBJK means working continuously on quality. We keep track of evolutions on the workfloor and in research, we follow-up in national and international changes and keep moving so that basic provision for young children can keep on growing. VBJK is committed to support, improve, deepen and fine-tune the daily work of so many professionals.
We do this by connecting all involved parties: children, parents, practitioners, researchers, policymakers and all possible relevant organisations. We also do this in our coaching projects, our product development and our research. VBJK always looks for work on the crossroads between practice, policy and research. Every innovation stands on its own but is, at the same time, embedded in the larger picture. Here you can see how we work, both on the national and the international level.
Innovation in ECEC
VBJK gets engaged in basic provision for young children and families:
Good basic services of early childhood education and care (ECEC) are places where children feel safe and cared for, where they get a sense of belonging, where they can develop all aspects of their identity and from where they can go discover the world. In such services, families are welcomed and invited to write their story, together with others. That is why these places are so fundamentally important. They support the education at home and play a major role in society.
The Early Years
Young children are VBJK's first target group. In our work with professionals, children (0 – 12 years) and their families are our main concern. We commit ourselves to every child, regardless of gender, background, language, religion, colour of skin, need, culture, political or other conviction, sexual preference, home situation, social position or any other circumstance. You can read more on this in our vision, our values.
Katrien Van Laere works in VBJK, Centre for Innovation in the Early Years. She finalized a PhD study on conceptualisations of care and education in ECEC in the Ghent University, Department of Social Work and Social Pedagogy. For this study she organised focusgroups for parents of young children who are transitioning to preschool and preschool staff to discuss meanings of care and education. Whether in pre-primary education or childcare, high inclusive pedagogical quality and social justice has always been one of her main interests. Linked to this issue, she is also committed to parental involvement, feminist ethics of care and professionalization. Katrien stands her ground in national and international research. She is experienced in coaching processes of innovation and has been making meaningful pedagogical material throughout the projects she's engaged in, such as Wanda and ecce ama!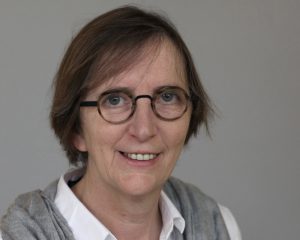 Caroline Boudry worked for several years as a child practitioner in childcare. Her talent, her drive and enthusiasm to work with children in art and creative activities, mixed with a constant focus on high quality pedagogical interaction and respect for diversity, brought her to VBJK. Her commitment and experience in coaching processes of innovation, and issues of reflective practice and pedagogical documentation. In VBJK, Caroline has been working among other things on the OKIDDO column: for almost 30 years, this column on pedagogical activities for children 0-4 years has inspired many practitioners. She also worked on many films and books, never losing focus on rich interaction with children. Many of VBJK's photo materials clearly carry her signature.